9 countries representing three continents are set to appear at the 18th Men's Mediterranean Handball Confederation (MHC) Championship, which will be played at the Turkish Handball Federation Hall in Ankara, Turkey from 20 to 27 February 2022.
Alongside host nation Turkey (TUR), Croatia (CRO), Egypt (EGY), Greece (GRE), Italy (ITA), Kuwait (KUW), Montenegro (MNE), Romania (ROU) and Spain (ESP) have all registered for the championship, which returns for the first time since 2020 due to the COVID-19 global pandemic.
With 44 games in total, the championship is open for all players born in 2004 or younger and provides valuable championship experience for the next generation of players from three continents coming through.
Spain the team to beat
Teams have been busy in preparation for the championship, with Turkey head coach Ismail Tarakci getting ready to lead the host nation after taking the role last month.
Spain, led by Daniel Sanchez-Nieves, arrive as title-holders, with Sanchez-Nieves looking to repeat his coaching success in Greece two years ago.
National team director Drasko Mrvaljevic and coach Nedim Selmanovic will look to go one better than silver with Montenegro, while Matej Miskovic and his Croatia team will look to improve on their 2020 bronze.
Other teams who have been busy preparing include Sipos Lorant and Romania and Giannis Pilalidis with Greece, while Italy's players have had a welcome bonus coaching session ahead of the championship with legendary Croatian coach Lino Cervar delivering a coaching sessionto them as part of his work as a speaker and guest on an Italian Handball Federation coaching course. Cervar coached the Italian men's team from 1994 to 2000.
Competition format
The 10 registered teams will be drawn into two preliminary round groups of five teams each, with the top three in each progressing through to the main round and the bottom two in each through to the intermediate round. The top four teams from the main round will then move on to the semi-final and medal matches, while the six other teams will play in placement matches.
The preliminary round will take place on three playing days (21-23 February), with the final games concluding at 12:45 local time on Wednesday 23 February. After a few hours break, the main round then throws off at 16:00 and intermediate round at 19:45.
Both rounds continue until Thursday 25 February, the same day the semi-finals take place (18:30 & 19:45). The final day of competition, Friday 26 February, will see the 9/10 placement (11:00), 7/8 placement (12:15) and 5/6 placement (13:30) played ahead of the bronze-medal match (14:45) and final (16:00).
After the completion of the gold-medal match, a closing and awarding ceremony will take place, scheduled to start at 17:45.
The draw will take place on Sunday 20 February in Ankara at 20:00 local time on occasion of the Technical Meeting.
Competition regulations
Competitions organised by the MHC follow the IHF Rules of the Game (Indoor Handball), but with some specific technical adaptations:
Game duration
All games, except final
45 minutes, split into three periods (three (3) x 15 minutes), three time-outs, per team, per game
Final only
60 minutes, split into three periods (three (3) x 20 minutes), three time-outs, per team, per game
Points scoring
Games are decided not by total goals, but by points scored in each period
In each period, the team with the highest number of goals wins one (1) point
In case of a draw in a period (same number of goals scored by each team), one (1) point is divided by both teams i.e. each team receives 0.5 points each
At the end of the match (when all three periods have completed), the team with the most points gained wins two (2) points
If the match ends in a draw, the two (2) points will be divided between the two teams i.e. each team receives one (1) point each
Final result: win – two (2) points, draw – one (1) point, defeat – zero (0) points.
The total number of points which a team can take from one match is five (5) points i.e. win first period = one (1) point, win second period = 1, win third period = 1, a total of a 3-0 win. For the win itself add two (2) points. Total = 1 + 1 + 1 + 2 = 5.
Matches
In case of a draw, five penalty shots will follow immediately without extra time.
Once teams enter the hall for their match, a coin toss takes place to decide which end of the court they will start and for who has possession of the ball at throw-off in the first period (the team which does not have possession of the ball at throw-off for the first period, automatically has it for throw-off in the second).
Only at the end of the second period (not first), teams change benches.
Before the start of the third and final period, there is a coin toss to decide which team has possession of the ball for the throw-off.
In case of protest coming from the bench (from players or officials), referees will show a yellow card directly to the coach.
Logo launched
According to the MHC, the championship logo is '…a singular handball signature created by combining a perspective representing movement and struggle with a modern and aesthetic approach. The logo takes its blue colour from the clean and clear waters of the Mediterranean and its red from the Turkish flag'.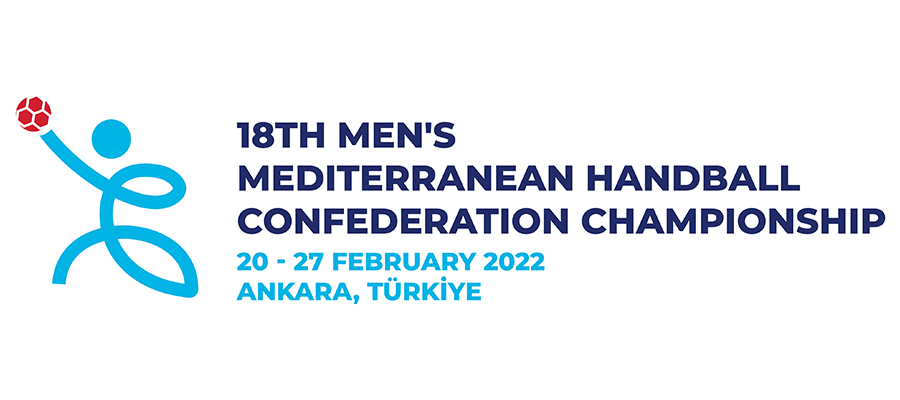 (IHF.info)